When you vaccinate your pet you are preventing them from getting and spreading contagious diseases. By vaccinating your pet, their bodies build antibodies which help fight off infections.
Get your dogs and cats vaccinated on the first and third Wednesdays of every month from 8AM to 2PM at our low cost vaccination clinic. Our vaccination prices are the lowest in town. We offer dog and cat vaccines, microchips, flea/tick preventative, and deworming for an extremely low cost. If you're a city of Fresno resident, we will also have our licensing department available for your convenience. Please see our pricing and dates below.
Our vaccination clinics are held at our animal center at 103 S. Hughes Ave., Fresno, CA 93706 and are BY APPOINTMENT ONLY. Please follow us on social media to find out when to call us to book your appointment or you can email us at spayneuter@ccspca.com at any time.  We will accept cash and credit/debit card forms of payment only.
VACCINATION CLINIC REQUIREMENTS
Kittens and puppies must be at least 6 to 8 weeks old.
All pets must be healthy, eating and drinking regularly. Pets must not be vomiting, sneezing, and coughing or have diarrhea. If your pet is not healthy, we cannot give them their vaccinations.
We require that dogs are on a leash and cats are in a secured carrier.
---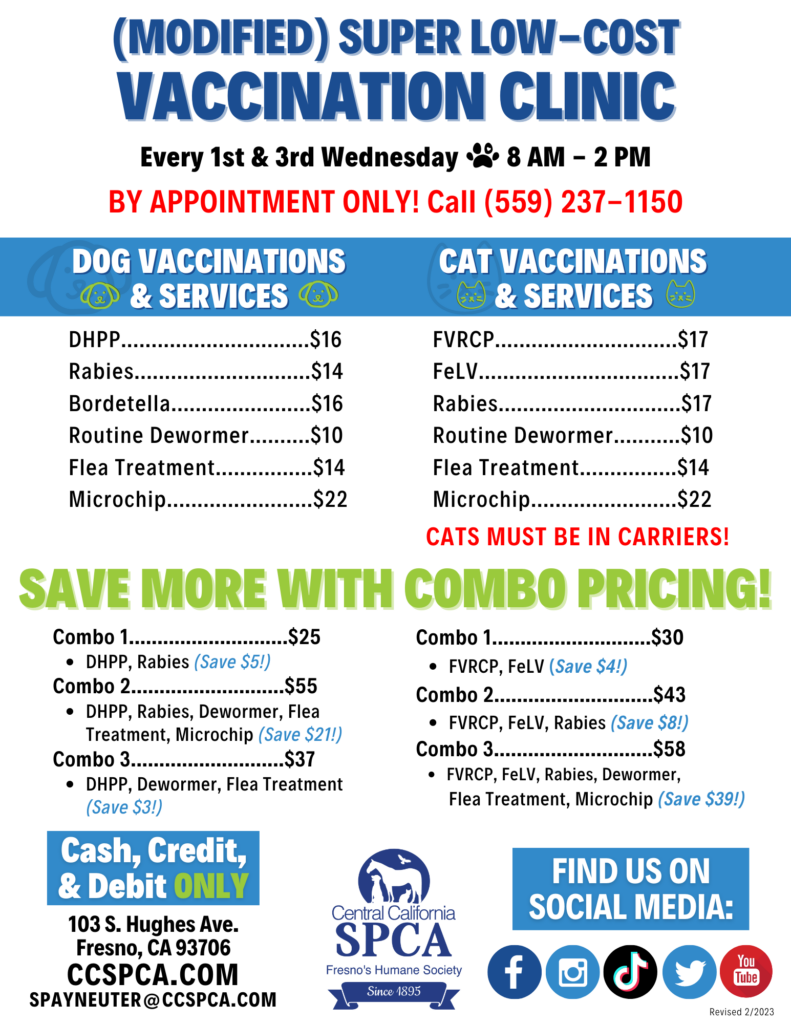 Download English Vaccination Clinic Flyer
Download Spanish Vaccination Clinic Flyer
IMPORTANT VACCINATION INFORMATION
Vaccinations for your pet are broken down into two categories: essential and regional non-core vaccines. Regional non-core vaccinations are those that veterinarians in this area recommend to ensure your pet is vaccinated against diseases that are common in the Central Valley.
Dog/Puppy Essential Vaccinations: DHPP (Distemper, Hepatitis, Parainfluenza, and Parvovirus) and Rabies
Dog/Puppy Regional Non-Core Vaccines: Leptospirosis, Bordetella, Canine Influenza, and Rattlesnake. (These vaccines may or may not be recommended depending on the dog's exposure risks.)
Cat/Kitten Essential Vaccines: FVRCP (Feline Viral Rhinotracheitis, Calicivirus, and Panleukopenia) and Rabies
Cat/Kitten Regional Non-Core Vaccines: Feline Leukemia. (This vaccine may or may not be recommended depending on the cat's exposure risks.)
2023 CLINIC DATES
8 a.m. to 2 p.m. (By Appointment ONLY!)
Wednesday, February 1, 2023
Wednesday, February 15, 2023
Wednesday, March 1, 2023
Wednesday, March 15, 2023
Wednesday, March 29, 2023
Wednesday, April 5, 2023
Wednesday, April 19, 2023
Wednesday, May 3, 2023
Wednesday, May 17, 2023
Wednesday, May 31, 2023
Wednesday, June 7, 2023
Wednesday, June 21, 2023
Wednesday, July 5, 2023
Wednesday, July 19, 2023
Wednesday, August 2, 2023
Wednesday, August 16, 2023
Wednesday, August 30, 2023
Wednesday, September 6, 2023
Wednesday, September 20, 2023
Wednesday, October 4, 2023
Wednesday, October 18, 2023
Wednesday, November 1, 2023
Wednesday, November 15, 2023
Wednesday, November 29, 2023
Wednesday, December 6, 2023
Wednesday, December 20, 2023
Wednesday, January 3, 2024
Wednesday, January 17, 2024
Wednesday, January 31, 2024