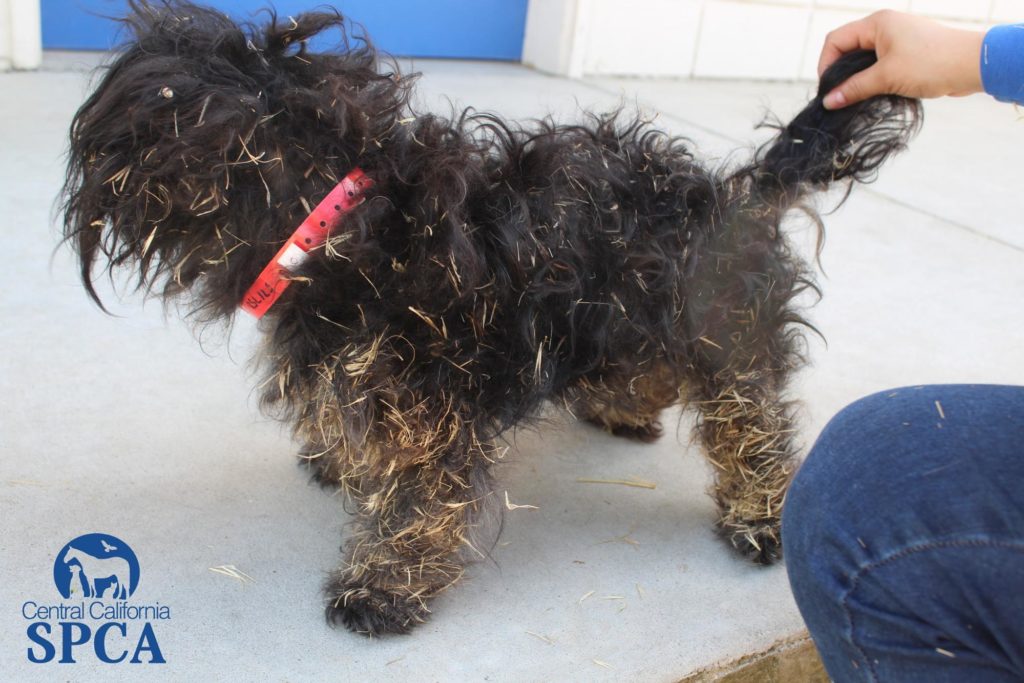 On Wednesday, May 1, 2019, a stray female dog was brought into our care covered in foxtails, straw, and ticks. The poor terrier's fur was extremely matted and there was an infection in her left ear. The terrier was taken to our grooming department, where she underwent hours of TLC: complete shave, tick and foxtail extractions, and a bath. Our Spay/Neuter Services' medical team also examined the dog to extract numerous foxtails found beyond the surface.
She is now available for adoption and looking for her loving forever home. If you are interested in adopting her, please visit our Adoption Center, open daily from 10 AM – 5 PM (6 PM on Wednesdays.)
Foxtail plants are especially abundant this year because of all the rain we've had. They are very prevalent in the Central Valley and Fresno area and can be found anywhere – fields, cracks in the sidewalk, and your own backyard. With the changing seasons, foxtail plants dry out and become beige in color. These tiny seed-like heads can easily find their way into every crevice of a pet's body, including paws, ears, noses, eye sockets, and even hindquarters. Beside irritation, embedded foxtails can cause serious infection – or even death – if left untreated.
To prevent a foxtail-induced infection, keep your pets away from overgrown grassy areas, and supervise them while they are outside. Examine their coats on a daily basis, and be aware of warning signs of embedded foxtails beyond the surface: sneezing, constant licking or biting, pawing at an ear, discharge from eyes or nose, red or watering eyes, and/or swelling.
If you think your pet has a foxtail that you can't remove, seek immediate medical attention to prevent further damage and infection.
Related Posts :