Adopt Bambi!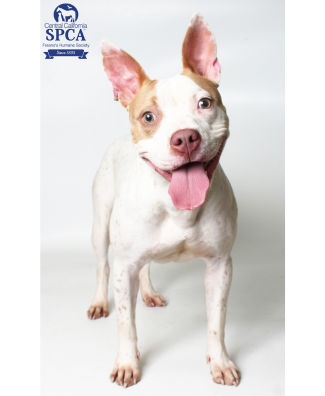 Meet Bambi, ID#52887829
Bambi is always telling us " Nuffin's better than a friend ". Bambi A52887829 is a 1 year old, female, white and tan, Pit Bull blend. Bambi is as sweet as they come, she might be excited to meet new people but she is one sweet dog. She gets along great with her kennel mates and the staff here. Like we said she does get excited to meet new people, maybe sometimes too excited but all she wants is a new family. Will you give Bambi a friend? Bambi's cost of adoption includes:
Spay/Neuter
First set of vaccines
Routine dewormer
Rabies vaccine
Free vet examination
Flea & tick treatment
Microchip
Adoption fee
Bambi is available at our Adoption Center, located at 103 S. Hughes Ave., Fresno, CA 93706. We're open from 10 a.m. to 4 p.m., Monday through Saturday. Questions? Call (559) 233-7722 x 116 or email adoptions@ccspca.com.
Visit our website to view all of our adoptable animals!
Join us on Facebook HERE - Our Facebook finds homes for animals!! Help us by sharing this animal on Facebook.