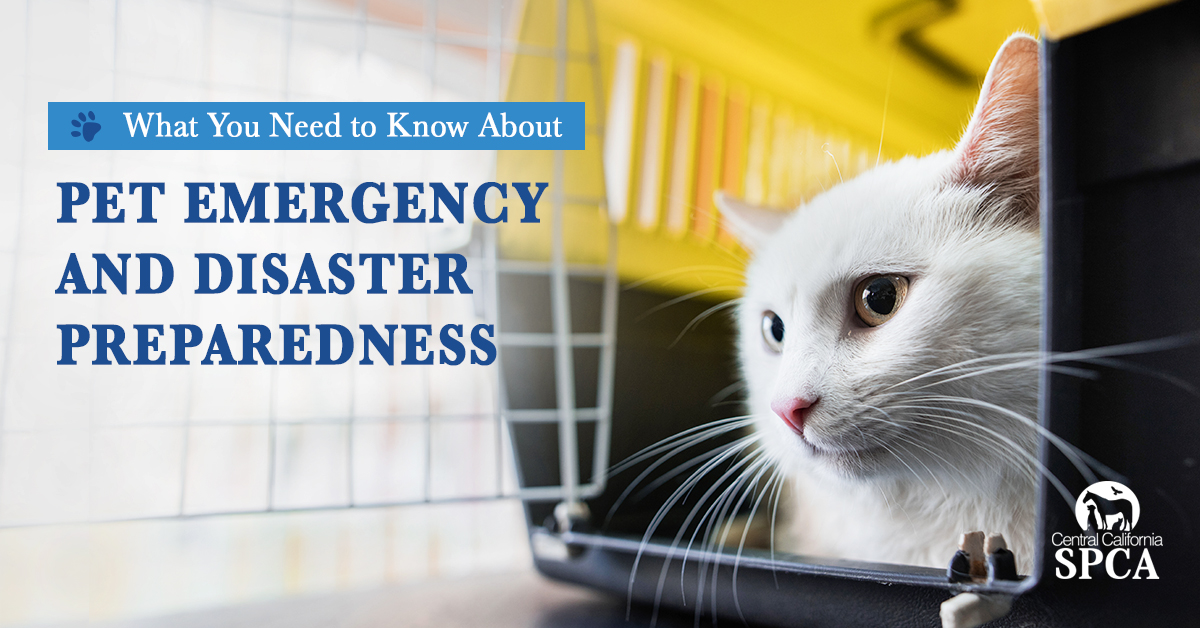 During these difficult times, CCSPCA is committed to helping you know what actions to take to be sure you and your pet are healthy. While there is currently no evidence to support the transfer of COVID-19 to animals, it is important to take all necessary precautions to keep you and your pets safe.
If you're not infected with COVID-19, you can safely interact with your pet but should continue to practice good hand hygiene and social distancing. If you have tested positive for COVID-19, out of an abundance of caution, we recommend limited interaction with your pet.
Emergencies and natural disasters come by surprise and can quickly throw your schedule, plans, and critical thinking out the window. To prepare for the unknown and reduce future anxieties, it's wise to have an emergency plan in place. However, many people forget to include their pets in these plans, which sometimes results in pets being left behind. Pets are a part of your family and should always be accounted for (especially in these situations). So, we've developed some tips to help create your pet emergency plan.
Pet Emergency and Disaster Preparedness Checklist
A pet emergency plan will make life so much easier—you will be prepared on several fronts and less likely to find yourself panicking.
Create an Emergency Kit for Your Pet
A good pet emergency kit will have a sturdy pet carrier with your pet's name and your contact information. If you have a dog, your information should also be on their collar ID tags. A spare and trustworthy leash will also help to put your mind at ease, so your pet can remain safely by your side and not get loose. We also strongly recommend microchipping your pet in case you somehow do get separated. Be sure to have at least a two-week food and water supply for each pet that you own, too.
You will also want a way to clean up after your pet when they relieve themselves or if they get sick, as some pets get a nervous stomach when they sense change and panic. Let's briefly break it down, as it depends on what type of pet you have. For cats, a litter box and litter is essential. As for dogs, you should do fine with plastic poop bags. Also, plan to have two weeks' worth of medication if your pet takes any. The last thing you want is to run out of essentials when you may not be able to reach your vet.
On a related note, in case of a pet health emergency, it's a great idea to have your pet's medical records on hand so they can more easily get treatment. Gather their vaccination records, prescription records, and medical history and keep them in a safe spot.
Make a Plan for Alternative Housing
Have a plan in place for where you and your pet might be able to stay during an emergency. Not every facility allows animals, so you will have to keep that in mind. One idea is to ask out-of-town friends or relatives if your pets can temporarily stay with them. There also may be boarding facilities, animal hospitals, or shelters where your pets could stay if you cannot return home immediately and you're at a hotel that does not permit them.
After you find a place to house your furry friends for the short term, ensure you're adding all the necessary contact information of those facilities to your emergency kit. It's also possible you might not even be home during the start of a disaster. If this is the case, have a neighbor or nearby friend that you trust evacuate your pets to safety. You may want to have them practice evacuations for a smooth process in your absence.
Practice Evacuating Your Pets
Training your pets to not fear their crates/carriers will help in the event of evacuation. You want a carrier to be a comfortable and safe place for them so there will be limited resistance when time is of the essence. If you have a pet that hides when they are scared, scope out these places in advance during non-emergencies. It will be beneficial for you to always know their favorite hiding spots so you can find and retrieve them quickly.
Be sure to also practice safe handling, as your pet might behave differently in a disaster or emergency. It's always best to be prepared in any scenario.
What to Do During an Emergency or Disaster
The following are some handy tips you will want to keep in mind regardless of the type of situation you find yourself in, so you will know how to act accordingly. When you are informed ahead of time, you can save yourself from trouble later.
Shelter in Place With Pets
If you have to shelter in place, bring your pets indoors immediately and close off any unsafe areas—including dog doors, cabinets, etc. It is crucial for you to stay calm throughout this process. Animals are perceptive; they can detect your moods and become stressed if they notice you are too. Stress makes things more difficult for everyone involved.
Be sure to comfort your pet if they are afraid and instruct whomever is caring for them to do the same. During stressful situations and changes in routines, it's also within the realm of possibility your pet could run away from home. Be ready to contact local shelters if your pet goes missing.
If You Have to Evacuate With Your Pets
The same rule of thumb about staying calm applies to this situation as well. Another thing to note—and you may think this is a no-brainer but you'd be surprised how many times it has happened—don't forget your pet! When a lot is going on, you may not process everything as clearly as usual.
While doing all you can to comfort your pets, grab all emergency kits. And, as mentioned previously, find an adequate place for you and your pets to stay.
Keeping Yourself and Your Pets Healthy During a Disaster
Whatever the type of pet emergency or natural disaster—whether it is a pandemic, flood, or major storm—you should wash your hands frequently, especially after handling your pet, their food, or waste. While it may seem tempting because they're cute and loveable, avoid letting your pet lick your face or hands in uncertain times. There are other ways you can accept and return their affections: cuddles, pets, smiles, laughter, treats, gentle ear rubs, and walks (if possible) all express clean signs of gratitude.
If your pet licks your hands or face (this sometimes seems inevitable with particularly hyper or excited animals) make sure you wash thoroughly right away. Similarly, keep your pet up to date on all vaccinations, and if you are aware of a contagious bug spreading, don't let them interact with other animals. There will always be time for your pets to have play dates at another point, and this will help protect both you and them.
Regularly clean cages, litter boxes, and carriers and wash their bedding, as well. It's also a good plan to avoid stagnant water, as germs can grow there quite well. If you come across puddles of water, don't let your pets drink or play in these potentially contaminated areas.
Now, Relax. You Know What You Need to Keep You and Your Beloved Pet Safe—No Matter What
During these trying times—or any others you may encounter in the future—always keep your plan updated and in a place where it can be located in a flash. You and your pet are in this together, and odds are, if you just breathe, collect your thoughts for a brief moment, and heed our advice, you can both weather any storm—literal or not.
To keep an emergency from becoming a pet emergency, check out our COVID-19 resources to help keep all your loved ones happy and healthy—whether they bark, meow, squeak, or chirp!