We have some exciting events coming up this month! Join us around Fresno to help animals in need.
Panda Express-Fresno State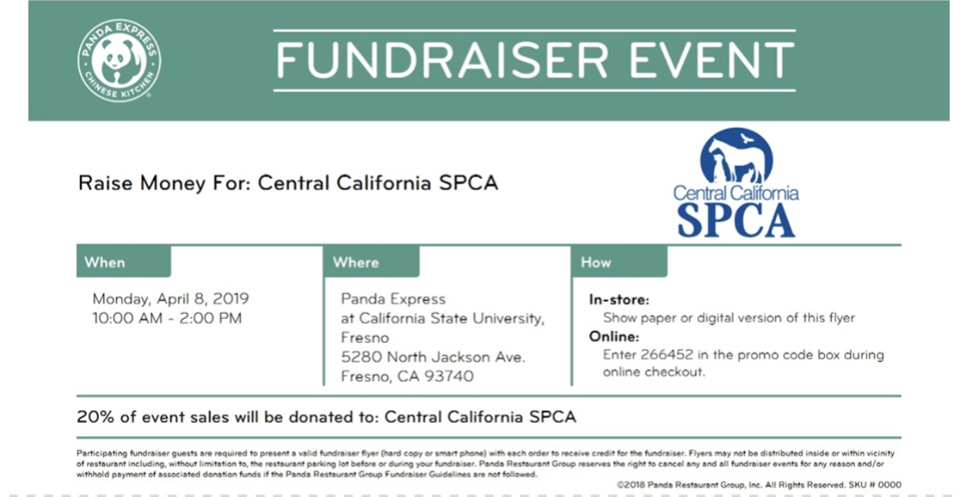 April 8, 2019
10 AM-2 PM
5241 N. Maple, Fresno, CA 93740
Calling all Fresno State students! Give yourself a study break on Monday, April 8, 2019 and grub on some Panda Express.Show the attached flyer when you check-out, and 20% of your meal total is donated to homeless animals in the Central Valley!
Pieology
April 9, 2019
11 AM-10 PM
3123 E. Campus Pointe Drive, Fresno, CA
Mama Mia! Who doesn't love a pizza? Join us at Pieology Pizzeria for a delicious fundraiser! Stop by anytime on April 9, 2019, and show this flyer on your phone to help homeless dogs and cats in the 559! 20% of your purchase is donated to us!
RocketDog
April 9, 2019
4 PM-9 PM
88 East Shaw Ave, Fresno, CA (NE corner Shaw and Blackstone)
Join us at Rocket Dog on April 9th! 10% of ALL MEALS (with flyer or not) ordered between 4 and 9 PM will be donated to the CCSPCA!
Related Posts :